Fly
Horizon Air and United now offer daily flights to the Mammoth/Yosemite Airport from Los Angeles, Orange County, San Diego, and San Francisco.  More information can be found here.
Rental vehicles are available at the Mammoth/Yosemite Airport (MMH).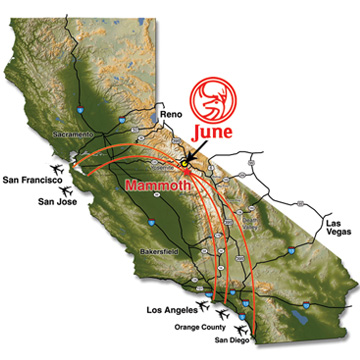 Drive
June Mountain, Ca. is located about 20 miles north of Mammoth Lakes. From US 395, take Hwy. 158 west at the June Lake Loop. Drive exactly one mile past the June Mountain Ski Area and the Yosemite Gateway Chalet will be on your left hand side — 4835 Highway 158.
From Los Angeles take I-5 north to SR 14 north to US 395 north to Hwy. 158 (320 miles).
From Orange County and San Diego take I-15 north to US 395 north to Hwy. 158 (388 miles).
From San Francisco and Sacramento In summer, take Hwy. 120 through Yosemite then US 395 south to Hwy.158. In winter, take I-50 or I-80 to US 395 south to Hwy. 158 (307 miles).
From Reno/Lake Tahoe take US 395 south to Hwy. 158 (155 miles).
From Las Vegas take US 95 north to Hwy. 266 west; turn slight left to SR 168 to US 395 north to Hwy. 158 (323 miles).
Shuttle from Yosemite
Take a shuttle from Yosemite Valley to the June Mountain Stop — which is just one mile from the Chalet.  The YARTs is also a great option if you want to shuttle into Yosemite and trek through the backcountry back to the chalet.  More information here.
Shuttle To and From Mammoth
Shuttle costs are $7.50 each way or $13 round trip. Click here for more information.